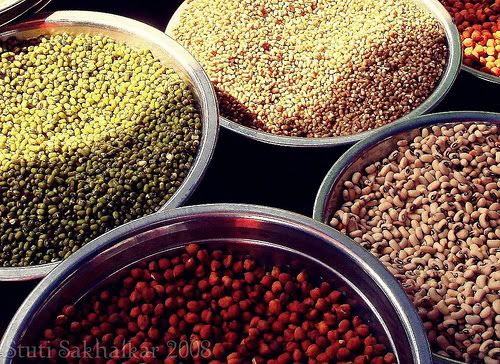 Image by Stuti ~
I absolutely
love
this soup! Here in Georgia, it's just starting to be on the edge of too warm for soup. But I think it's still do-able, and there are plenty of you who don't live so far south as I do. So, I thought I'd share. Because no one on the planet should be without the luxury of this recipe.
There are three things about this soup that make it one of my all-time favorites. First, it tastes fabulous! It's really one of the best things I've ever put in my mouth. Second, it's made in the Crock Pot. And I love me a good Crock Pot recipe. Last but not least, it's a frugal make. See what I mean? Complete winner.
The original recipe comes from the blog
A Year of CrockPotting
, which should definitely be on your favorites list if it's not already. The link to the original recipe can be found
here
.
I'll type it out for you here the way I made it (which is pretty similar), plus give you the cost breakdown.
Salsa Chicken and Black Bean Soup
Ingredients:
1 small chicken breast

(I used less that the original recipe called for--$0.75)

1 1/2 cups dried black beans

(I used more than the original recipe called for--$0.75)

4 cups of chicken broth

(I try to make my own from leftover chicken bones--free!)

1 cup frozen corn

($0.30)

1 1/2 tsp cumin

(You could probably reduce this a little if you're afraid of too much spice--$0.05)

1 jar prepared salsa, 16 oz

(I used mild so it wouldn't be too spicy for the little ones--$1.00)


1/2 cup sour cream

($0.25)

4 oz shredded cheddar cheese

($0.75)

Salt and or pepper to taste



The grand total is $3.85! (Note: Those prices are what I pay at the grocery store for items on sale, etc.) If you wanted, you could pay a little more to buy your broth from the store and add in extras like cilantro, avocado slices, and fresh lime. Those definitely add a nice touch!
Directions:
Start the night before. Cover your dried beans with plenty of water and leave them overnight. In the morning, drain and rinse them well. Remove any funky looking beans.
Combine the first five ingredients in a 4 quart or larger Crock Pot.
Do not add the salsa at this point!
If you do, it will take much, much longer for the beans to cook due to the acidity of the tomatoes. So, don't do that.
Cook on low for 3-4 hours--the original recipe says that you need to cook it on high for nine hours! I found this completely unnecessary if the beans were presoaked and the salsa was added later. Once your beans are softened, remove your big hunk of chicken breast and chop it up. Then return it to the pot. Now add your salsa. Cook for one more hour or so on low.
When ready to serve, stir in the sour cream, ladle into bowls, and top with cheddar cheese.
Dig in and enjoy!
This post is linked to
Ultimate Recipe Swap
.