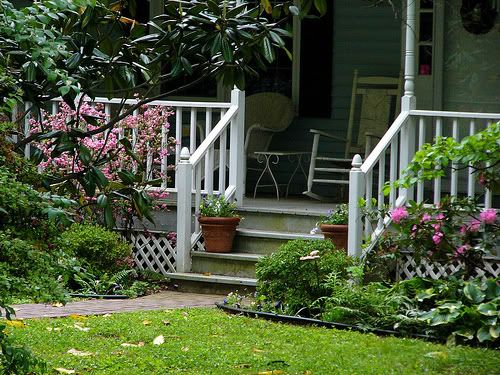 Image by ktylerconk
Homemaker. SAHM. Home manager. Housewife.
Would you use one of those words to describe yourself? If so, I hope this coming series will be particularly encouraging to you. For the next several Mondays, I'll be writing a series called
Homemaking: It's a Real Job!
Being a homemaker is indeed a real job, and as homemakers there are a couple of things I think we need to keep in mind.
1. Good home management and/or homemaking takes concentrated effort, skill and dedication.
Like any worker, we can be sloppy and mediocre whose efforts (or lack thereof!) yield little to no results.
Ask me how I know.
Or, we can truly apply our energies and mental capacities to a role that can give amazing and beautiful results. It's a choice we make--it doesn't happen by accident. You're not born a good home manager any more than you're born a good architect, mechanic, or zoologist.
2. Being a homemaker is an incredibly valuable "profession".
When we decide to take our roles as homemakers seriously; when we apply true energy and effort to this role, the value of what we're doing cannot be understated. However, think of a profession that has traditionally been thought of as a noble and valuable one--that of a doctor. We wouldn't think he was still doing something valuable or noble if he was untrained, sloppy, had a terrible bedside manner, and whose disorganization created mix-ups resulting in tragic consequences. In fact, we probably wouldn't even call him a real doctor!
Home management and homemaking are only valuable and noble if you're really home
managing
and home
making
. If you're doing
what I was doing
, well. . .maybe you're not really a homemaker. Wow. Harsh words? Maybe a little, but I know I wasn't one--and I sure needed a kick in the pants!
My desire for this series is two-fold. Mostly,
I hope it encourages you
! I want you to hold your head high and never hesitate to answer the question, "So, what do you do?" Even if the rest of the world never recognizes the incredible value of real homemakers, I want
you
to be utterly convinced of your value in that role.
Secondly,
I hope it does challenge you, if that's what you need
. Girl, I
so
needed somebody to challenge me! Ultimately, the Lord was the one who gave me the wake up call I needed. And, boy howdy, did I need one! Please remember that these words aren't written by someone who's got this thing all together. The thought makes me want to roar with laughter. Nope.
I'm still very much on the journey.
So, please--I'd be so honored if you'd join me as we explore this thing together. Meet me here each Monday for
Homemaking: It's a Real Job!