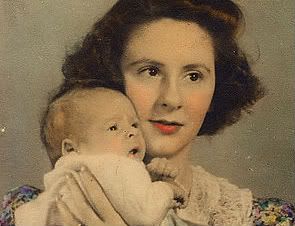 Image by PhillipC
Today I found an old, old note that was tucked in to my jewelry box. It was a tiny note card--if I recall correctly, we found them in cereal boxes wrapped up in cellophane many years ago. This is what was written inside the card:
Thank you for cleaning up my dresser and for bringing the wood in for me this morning. It made me so happy to see you do everything so fast. Jesus is happy too!

Love, Mommy
Again, if I recall correctly, I found this little note in my lunch that day so many years ago. I don't think I was any older than seven. I've carried this note with me for close to twenty-five years. I have always kept it in a special place because it was a treasure.
As I looked at the note again the other day, I was reminded afresh of the gift of my mother. Sometime in highschool, I gave her the pet name "Marmie" and now that's what the grandchildren call her, too.
My Marmie. I'm so very, very thankful for her. She is one of my biggest cheerleaders. Especially as a mom. She is a source of deep encouragement to me as a woman, wife and mother. Every time she tells me, "You and Keith are doing a
great
job as parents--just keep on keeping on", it's like someone handed me a million bucks.
She listens. She doesn't give out opinions unless I ask for them--now that's saying something! When I try something new as a parent that she's unfamiliar with (home birth, babywearing, cosleeping, for example), she is always interested. I don't think she has ever frowned on Keith or me for the way we parent.
You know what that means? I ask her honest opinion about lots and lots of things. And then she tells me. But she always tells me in an encouraging way.
To this day, if I'm with her and I'm crying, she will pull my adult body into her arms and let me cry as she strokes my hair.
I love my sweet Marmie.
Two years ago, my Marmie was diagnosed with cancer. I don't think I've ever been so scared in my life. I was so scared that I did a lot of pretending that nothing was wrong with her. I live about a thousand miles away from her, and, to be honest, for a while that suited me just fine. It was easier to pretend that she was OK.
But then we talked. And I poured out my heart to my sweet Marmie and told her how much she meant to me and that she couldn't ever, ever die. And then the pain was real and the miles between us hurt so much.
But God. God loved me much like Marmie loves me. He let me cry in His arms and He watched over her, too. Two years later my Marmie is cancer free. Her health is not what it was. And I do plenty of yelling at her to take it easy. But God has allowed her to be with me for at least a little longer. And I'm so thankful for that.
I have a wonderful, beautiful Marmie. Thank you, God, for my Marmie.
For more thankful thoughts, please visit
Heavenly Homemakers
.