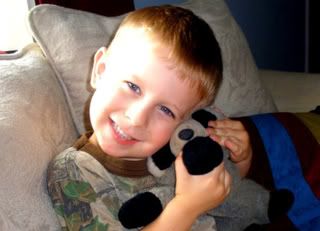 No, this post is not about Rocky Balboa. (Sorry to all you diehard fans that only came to read this with that in mind.
Sorry
.)
Rocky, I'll have you know, is a small stuffed raccoon. He's lived with us now for a few years. A few years ago, Keith's grandparents moved down here from their home in Virginia to be closer to family. Shortly after they arrived, Mamaw found a cute stuffed raccoon in the gift shop of a nearby state park. She picked it up for Caden.
It actually took a while, but in the last year or so, Caden has formed a deep attachment to Rocky the Raccoon. He talks to Rocky, eats with Rocky, plays and pretends with Rocky.
Did you know that Rocky almost moved to California to be with his mother? But he loved Caden so much he decided to stay here. That's what Caden told me, anyway.
Rocky has even been to Sunday School with Caden a few times. And every night when we pray before bed, Rocky prays too. He has a small, squeaky little voice that is similar to Caden's. Yes, very much like Caden's, only squeakier.
One night last week, Caden informed us that Rocky didn't want to pray. We were surprised, but we really feel like no one should ever be forced to pray. So, we didn't press the issue.
Apparently, Rocky should have prayed.
Because the following night, when it was time for bed, we couldn't find Rocky.
Anywhere
. Keith and I looked in every drawer, cupboard, and nook we could think of. He just wasn't there.
I was beginning to feel panicked. Rocky is Caden's friend and security in so many ways. I mean, if I haven't been clear enough already, they do
everything
together. Everything.
Caden was upset. He kept telling us that he could hear Rocky crying. (*Sniff*) And I felt like crying myself. Thankfully, Keith grew up with his very own Rocky and Caden accepted this very old, worn, loved raccoon as a substitute.
As we prayed together, Caden prayed that Rocky wouldn't be afraid, wherever he was.
After Caden fell asleep, I cried out to God.
"Oh, please, Lord! You know where that little raccoon is. Will you please help us to find him?"


The next
morning, my telephone rang.
It was Belinda from the State Farm office. We had stopped by there the day before on one of our many errands.
"Yes, I was just wondering, is one of your boys missing--"

"A raccoon?!"

"Yes!"


Oh, thank you, LORD!!!
I could have hugged that woman's neck! We did cut her a lily from the garden to show her how very much we appreciated her thoughtful call. That morning, we headed over and found Rocky sitting, quite pleased with himself, on her desk.
Caden rushed over, scooped him up, and hugged him tight. *Sigh*
On this day, I am so very grateful that I have a God who cares about the little people and the little things they care about.
Thank you, Lord, for bringing Rocky home.
For more thankful thoughts, please visit
Heavenly Homemakers
.