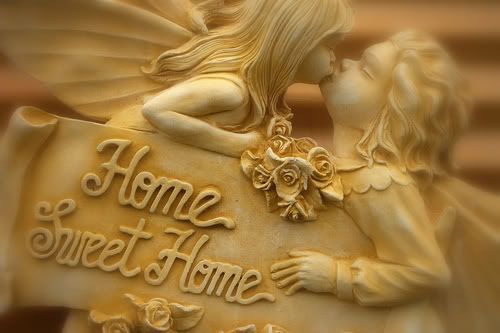 Image by frumbert
I'm about to go on vacation! Well, um, I'm about to
be
on vacation to put it more accurately.
Keith is taking his vacation time next week and we are so excited! We are in desperate need of a break and some rest.
We have also experienced a serious feeling of
tightness
when it comes to finances lately. In the past, we've had a vacation fund that we contributed to regularly throughout the year, but that was something that had to go this past year as we tightened our belts some more. We decided that if we were able to do something special to raise some extra money for vacation during the year, we'd do that instead.
But, as it turns out, any time we've been able to set aside some extra money, it's been needed more somewhere else. Thankfully, we were able to get a start on our emergency fund this year and now have three months of savings set aside. That's definitely worth more to me than a vacation to a new spot.
So, we've got this vacation time coming up, a need for refreshment and fun, but no money.
As a result, we are planning our very first
staycation
! Sound intriguing? Here are the ideas I've come up with to make our week at home fun, exciting, relaxing, and best of all--cheap!
1. Make a commitment to

really

take vacation.
I don't want to fall into the rhythm of regular life even though we're here in our own house. It needs to
feel
like vacation! So, Keith won't be "allowed" to work in the yard (unless he presents the argument that it makes him feel relaxed)! I won't have anything on my schedule or to-do list other than the necessary things like laundry, dishes, and cooking. No deep cleaning. No delving into my baby preparation list. No blogging. No extras. Just relaxing and enjoying each other!
2. Plan some fun things to do.
I don't expect to schedule my days to death, but I know us well enough to know that if I don't figure out ahead of time how we'll spend our time, the week will be gone, and we won't have done
anything
worth doing! Here's a few things I'll be putting on our schedule for the week:
Swim in Nannie's pool
Play in our wading pool
Go for walks with Daddy
Visit nearby state park and take a picnic
Take a day trip to the beach
Visit the library with Daddy (the kids are always begging Keith to come with us--now he can, because he's on vacation!)

3. Put some "fun" foods on the menu.
I don't know about you, but vacation always seems extra special to me because of some yummy, fun foods I get to eat along the way. So, our menu will be things that are our family "fun" foods. Burgers on the grill, wings, tacos, chicken caesar salad, and pizza. Breakfasts will probably be some special treats like coffee cake, bacon and eggs, and even a box or two of sugary cereal that I
never
, ever buy for my family. It's vacation after all!
4. Plan at least one small "luxury".
For us this might be going out for shaved ice. Or we might be able to budget enough to treat the family to a meal out one evening. It doesn't have to cost a fortune to seem like a treat. Just something you don't treat yourselves to very often.
5. Consider taking a break from the techno world.
Anytime we've gone away, we've been somewhat separated from the rest of the world. We don't have cell phones, so we aren't usually on the telephone. And we don't usually have access to the Internet--so, no Facebook, blogs, etc, etc, etc. Really, all that stuff can take up quite a bit of mental energy. I think I'd like to see us turn our answering machine on and turn our computer off--at least for the majority of the time.
6. Look at the very, very bright side of a staycation.
Are you in our shoes this year and expect to be spending your vacation time at home? Maybe you're not really into the idea, and you feel more like moping about it than trying to make it fun. Here's a couple more thoughts to get you pumped about the possibilities:
You don't have all the prep work that going away requires. (No finding a place for the dog, arranging for the mail and newspaper to be on hold, or PACKING!)
You don't have to travel in the car with whiney, tired children for hours.
You don't have to worry about going into debt to pay for the vacation you know in your heart you really can't afford.
You don't have to UNPACK! (This might be the best one of all.)
You won't have 17 loads of laundry to catch up on when you come home. (Second best!)
Do you have any more suggestions for our family and the week ahead? Any fun, cheap ideas to make this memorable, relaxing, and exciting! I'd love to hear them!


For more money saving tips, please visit
Frugal Friday at LifeasMOM
!