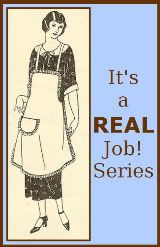 It's Monday morning and Jacob Eldridge pulls into his parking place at Carolina Place, Ltd. He reaches over to the passenger seat, grabs his briefcase, and then makes a quick dash inside the glass building. He's the CEO of this impressive place, and he's got an important meeting with prospective clients this morning.
His secretary Ellen hands him his schedule for the day without looking up. She lifts her head just in time to see him disappear into the conference room. Her jaw drops.
A group of men and women are chatting quietly as they wait for the big man to arrive. They hear the doorknob click and look up with anticipation. Eyebrows rise and more mouths hang open. Someone lets out a nervous chuckle. Is this some sort of joke?
Jacob Eldridge, CEO, had arrived for work in his pajamas.
While most of us would never consider showing up to an important business meeting in our PJ's, a sweat suit from high school, or the grungiest items in our closet, how many of us home managers have worn those things for most of the day on a regular basis?
I know I have.
I really think that one of the best things we can do as we pursue taking our jobs as home managers more seriously is to begin to dress well for our job.
Why? Why does it really matter what we wear in the comfort and privacy of our homes? Who really cares whether we get out of our jammies or not?
Here are two good reasons to get dressed properly for your job as home manager:
1. It has a positive effect on your motivation and effectiveness.
There are quite a few things I love about
Flylady
. There are also quite a few things about
Flylady
that
don't
work for me. But I think she's definitely on to something with her
shoe kick
. Except for the shoe part. (Call me a rebel, but I refuse to wear lace up shoes everyday.) Her argument, though, is that we feel better about ourselves when we get dressed. And that when we feel more pulled together we
act
more pulled together.
2. It blesses your family--especially your husband.
Though many of us won't take the time to dress nicely for a day at home, most of us don't want to be seen in public in our sleepwear with no makeup and greasy hair. When we're going out, we tend to perk ourselves up a bit, right? But are the random strangers in the world really that much more important to you than the people you hold nearest and dearest--your children and husband? Don't they deserve to see your pretty side, too?
Getting dressed, fixing our hair and faces--these all speak love to our family members. Especially your husband. I can almost guarantee that your husband will feel at least a small delight to come home to a woman who is dressed nicely, smells approachable, and whose hair is combed. Especially if he's been greeted by the opposite for quite some time.
So, what does this really mean? What does it look like to dress well for the job of home management?
1. Beauty
As women, let's embrace our femininity by being girls! Dress in clothing that flatters, fits well, pleases your sense of style, and expresses your personality. Getting dressed can be a creative outlet as well as something that gives you
and
your
husband pleasure. Maybe you're saying, "But I don't have anything beautiful that fits me, and I sure don't have any money to buy a new wardrobe!" Be resourceful. Set aside a little bit of money and head to the thrift store--you can find some beautiful clothes for next to nothing there. No excuses!
2. Function
So, does dressing beautifully mean pulling out the pearls? Um, probably not. Personally, my two year old would rip those off my neck before the day was over. As home managers, we do a lot of moving. Bending, stretching, chasing wayward toddlers. Our clothes should be comfortable and suited to our tasks. Beauty and function don't have to be mutually exclusive, though.
This is where an amazing apron can come in.
Aprons are
so in
, if you didn't know. They're coming back with a vengeance and there are some seriously cute ones out there. There are aprons made for every style and personality. They're the perfect blend of function and beauty, in my opinion.
Now for the fun part!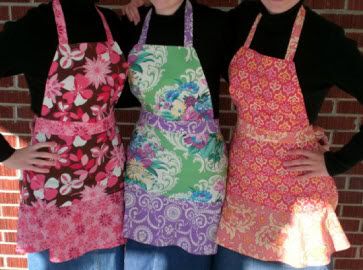 The lovely ladies at
Marie-Madeline Studio
have generously agreed to give away
one of their beautiful aprons
to one blessed winner! These aprons are just what I was thinking of when I mentioned the blend of beauty and function. I love, love, love their aprons!
The best part is that the winner gets to choose not only the style of apron they prefer, but the fabric as well!
Here are the guidelines if you want to enter this giveaway:
1. Head over to
Marie-Madeline Studio
and decide which
style of apron
and
fabric
you would like, and post a comment with your selection. Only one comment per person, please.
2. For a second entry,
subscribe to my feed
! There will be a secret code in the footer of the post in your feed reader or inbox that won't show up on the site itself. Email the code to me at hearthmanagement (at) gmail (dot) com.
Put the quote in the subject line--I won't actually read the email!
For those of you who are wondering what it means to subscribe,
here's a quick explanation
. Please don't comment to let me know--I'll get your email.
3. For a third entry, post about and link to the giveaway post. Email me with your link in the subject line (for some reason my pingbacks aren't working right now). Please don't comment to let me know--I'll get your email.
The giveaway is open to US and Canada residents. The giveaway will be open all week long and will end Friday, March 27th at midnight. The winner will be announced on Saturday the 28th and will be notified by email. Please be sure that I have a way of contacting you. (Either a valid email address in your profile, a link to your website, or your email address included in your comment.)
Have fun!
Image by Playingwithbrushes