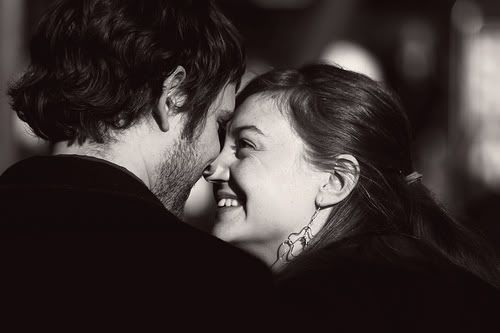 Image by HAMED MASOUMI
You know what? I've got a great husband. I really, really do. But sometimes. . .I can take him for granted. Or get irritated with small faults that grow to ridiculous proportions in my imagination.
Recently, I've been reminded of the importance of
prizing my husband
. I have a new, dear friend who I've been meeting with for dessert (Yum!) and a book discussion (
Feminine Appeal
by Carolyn Mahaney). She mentioned that she and her husband had been doing
The Love Dare
, which is a book that grew out of the movie
Fireproof
.
Now that last paragraph had a TON of marriage resources in it for you! I would especially recommend watching
Fireproof
if you haven't done so already. I've got a pretty good marriage, but it made me feel a burning desire to protect, grow and light my marriage on FIRE! (Pun intended.)
In any case, my sweet friend told me that one of the exercises in
The Love Dare
book was to make a list of all the positive things about your spouse. She told me that after she completed her list, she was overwhelmed with what a great gift she had in her husband! Now she keeps her list in a handy spot, so that she can pull it out occasionally when she needs to be reminded of the blessing God has given her.
Now, isn't that a fabulous idea?
So, I'm gonna copy her.
Here's my list:
My husband is. . .
Patient (oh-so-very)
Kind (he almost ALWAYS speaks kindness to me)
Honest (never in our marriage has he told me a lie)
Encouraging (on my worst days, he picks me up with his loving encouragement)
Hardworking (seriously, girls, there is no one on the planet as hardworking)
Visionary (he dreams AND shares those dreams with me)
Generous (I'm embarrassed to say that by nature, I am NOT, so I really admire this)
Committed to our family (I know that after God we're his number one priority)
Faithful to follow God (even when he struggles, he presses on)
Really. I'm the luckiest woman alive. And I am so grateful for my husband today.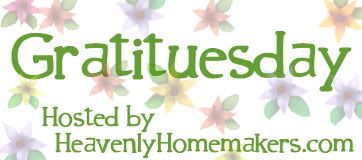 For more thankful thoughts, please visit
Heavenly Homemakers for Gratituesday
!
What about you? What are some of the things you love about your husband?