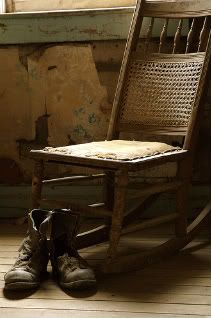 Like they say in the south, "Grab you a chair and some sweet tea and sit down for a spell."
I'd prefer coffee this morning, though.
Here are some of my favorite links from this past week:
Organization and Productivity
Getting More from Your Address Book
from Small Notebook
Stewarding Your Finances
Needs vs Wants
from The Happy Housewife
Natural and Green Living
Battle of the BPA-free Sippy Cups
from Keeper of the Home
Feeding Your Family
Nourishing Food Panel: Healthy & Frugal Tips
from The Nourishing Gourmet
How to Make Mozzarella Cheese
from Heavenly Homemakers
Creating a Sanctuary in Your Home
Idea Book :: For Your Home
from The Nesting Place
Simple Details: Beautify What You Have
from The Inspired Room
Nurturing Your Children
Taking Back the Day
from A Path Made Straight
Serving Our Savior
And finally, if you read nothing else, I'd love for you to visit this blog. Baby Jonah is a little guy that weighs heavy on my heart these days. I'd love for you to learn about him, join the Facebook group and pray like you've never prayed before on behalf of Jonah and his mama and daddy.
Williams Family Blog
Image by Seamus Murray