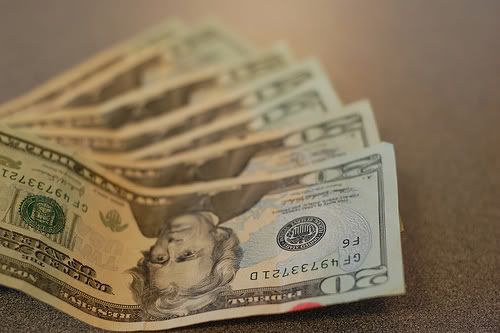 Image by jenn_jenn
So, I don't really like cash. It's dirty. It's inconvenient. It's heavy. (I'm originally from Canada, and when I lived there we had one and two dollar coins that were respectively called loonies and toonies. Don't laugh. Think of the backache you'd get from carrying THAT stuff around.) Besides, carrying cash is
risky
! I could be mugged! (Ahem.
I live in a small town in Georgia

.)

Plastic. It's so much nicer, no? It's pretty clean. It doesn't hurt my back. Well, I suppose it's still risky. I suppose I could still be mugged--aside from the fact that I do live in a small town in Georgia.

I've always heard that you should pay cash for things. You know Dave Ramsey and how he preaches. But I figured that using a debit card was just as good. Until recently. You know how sometimes you get a flurry of info from different sources on the same topic? And you figure maybe you should listen up?

Well, I kept hearing that using plastic--even a debit card--resulted in higher spending than paying with cold, hard cash. You know the stuff made of paper and metal. (It's been so long since I've seen some that I'd nearly forgotten, too.) I heard it from Dave, Meredith, and then Crystal. In fact, they were saying that consumers spent 12-18% more when they used any form of plastic. Hmmm. Could that be where those extra pennies dollars were going each month?

I decided to bear the (ahem, literal) burden of carrying cash for a while and see what happened.


Enter the Great Cash Experiment:
1.
I decided to use cash for the most obvious variable expenditures.


We're a pretty basic family when it comes to spending. I have a grocery category and a "miscellaneous" category. The miscellaneous category covers toiletries, birthday gifts for others, stamps, and overdue fines at the library for the book that has fallen into a black hole in our house. You know,

miscellaneous

stuff. The kind of stuff that can really eat away into your budget if you're not watching.



2.

I put the debit card away and gave my cash assigned spots.


I found that I had to put my debit card out of sight. Out of habit, I was still reaching for it without thinking. I'm considering leaving it at home entirely, but I'm not there just yet. Right now, it's in an out of the way spot in my purse. I'd given my old wallet to the boys to play with, but stole it back since it had handy dividers in it for my different cash categories and a spot for change. Levi cried for a minute and I felt guilty, but we all recovered. I promise I'll be on the lookout for another wallet for them to play with!



3.

Online purchases were deducted from my cash.


These days I buy a LOT of stuff online. We needed some homeschool materials that I purchased online. I used my debit card for that, but then immediately took the cash out of my wallet and set it aside as though it had been spent.



4.

I readied myself for the big test--the grocery store.


Every week most of my variable budget is spent at the grocery store. I've been working with a budget, but if what everyone said was true, I was still spending more than I would if I paid with cash. So. I counted my cash and meticulously counted my grocery costs as I went through the store. How embarrassing would it be to not have enough money to pay for my groceries?!



Verdict:


I know I spent less! There was an online purchase I didn't make because I realized that, although the purchase was small--only a few dollars, I might be cutting my budget a little short for next week. I saw the biggest difference at the grocery store. I found myself asking, now do I

really

need this for that recipe or could I do without it? I looked harder for smaller packages of meat and discounted produce. These are things I do sometimes, but I paid much more attention knowing I had a limited amount to spend.

Spending with cash brought a reality to spending that just wasn't there with plastic. It "hurt" more to lay out my paper and metal (yes, I even used a few pennies to pay for my purchase). In short, this experiment was a success. Your back might hurt a little more, and if you get mugged, don't say I didn't warn you, but your budget will be in a healthier place for the risk.

For more tips about seeing your cash flow grow--visit We Are THAT Family!