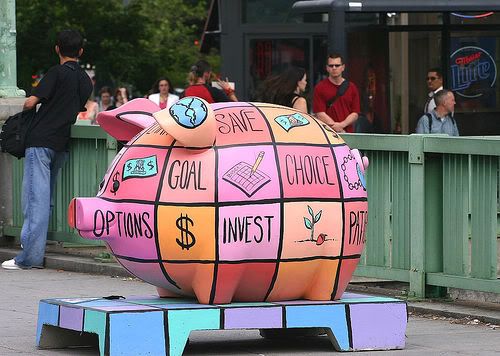 Image by dbking
Our family is on a journey. A journey to financial freedom, baby! (A la Dave Ramsey.)
We've completed baby steps one through three.
We eat beans and rice and rice and beans most of the time.
We drive a clunker.
We've learned to tighten our belts--sometimes it feels like the belts can't get any tighter!
We've looked for ways to bring in a little extra since we really can't pare down much further.
All in all, it's been, well, fun! The journey isn't without its challenges, but it can also be invigorating.
There is something along the way (and even before we started this) that I've found difficult.
I am not by nature a generous person.
My husband on the other hand? He's generosity itself.
We
do
give. We tithe to our church. We sponsor a little boy in Peru. We also give periodically to other organizations we believe in.
But.
The truth is that, for me, this kind of giving feels easy. It feels easy because it's in the budget. It's a line item. An obligation. (*Gasp* That sounds
so
bad!)
It's the
spontaneous
giving my husband wants to do that is so hard for me. When someone has a need that arises and Keith is aware of it,
he is always willing to give

sacrificially

. I'm not.
And that's just the plain, sad truth. I don't want to be that way. But it is indeed very, very hard for me. I don't want to deviate from our budget. Or mess up our baby steps.
But here's the thing I'm trying to understand more clearly:
Everything I have doesn't really belong to me. It belongs to God. I'm just the person He has asked to handle
His
money.
Whew.
When I look at it from the proper perspective, it really does change things. I want to hold everything He has entrusted to with an open hand. I really want to be like the Macedonians Paul writes about in II Corinthians 8-9.
"Out of the most severe trial, their overflowing joy and their extreme poverty welled up in rich generosity. For I testify that they gave as much as they were able, and even beyond their ability. Entirely on their own, they urgently pleaded with us for the privilege of sharing in this service to the saints."

(8:2-4)
Later on Paul says this:
"Remember this: Whoever sows sparingly will also reap sparingly, and whoever sows generously will also reap generously. Each man should give what he has decided in his heart to give, not reluctantly or under compulsion, for God loves a cheerful giver. And God is able to make all grace abound to you, so that in all things at all times, having all that you need, you will abound in every good work."

(9:6-8)
My frugal tip for today is:
Be a generous giver--it's not yours anyway!
It might seem like a paradox, but the truth is that God's economy doesn't work like the world's economy. May He continue to work in my heart in this regard!
For more money saving tips, please visit
Frugal Friday at LifeasMOM
!
Does giving come naturally to you? Can you share how you have learned to be more generous?