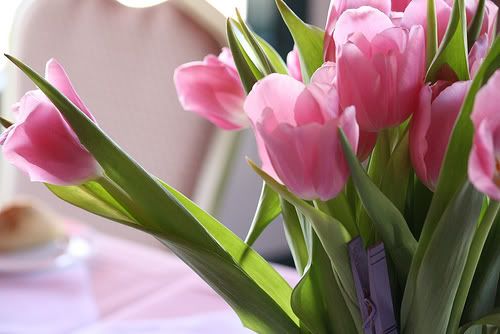 Image by smoorenburg
Mother's Day. Valentine's Day. My birthday. Our wedding anniversary.
You know what all these days have in common?
They used to represent collectively the worst days of my year.
Days that represented disappointment, frustration and resentment.
I know.
That sounds terrible! But it's the truth.
Almost inevitably, these days would leave me feeling angry with my husband.
If he really loves me, why doesn't he do "xyz" for me on days like today?
Anyone been there before? Now, don't get me wrong.
I've got an

awesome

husband
. But he has a few quirks. Want to know what they are?
a) He's completely different from me.
b) He's never learned to read my mind.
Weird, right?
OK, you're probably chuckling by now. At me
and
at yourself. Because we've most likely all been here at one time or another in our marriage.
I'm not usually miserable on these days any more. In fact, I usually really enjoy them! Would you like to know what changed? No, he didn't "figure it all out". Instead,
I
figured a few things out. And here's what I've done differently:
1. I set my expectations really low.
Now that might sound like another slam on my sweet husband, but I really don't mean it that way. I've just learned that when I don't expect much, I'm almost always very pleasantly surprised. I let him be who he is, and I plan ahead of time to be happy with very little. I think this makes him feel more free to go an extra mile instead of worrying that he isn't going to live up to my high expectations. I think the pressure of that made him resent
me
, actually.
2. I tell him

exactly

what I want.
Instead of expecting him to read my mind, I lay it all out there. I tell him what I want him to give me. I tell him what I want to do. I tell him what I'd like to eat. And sometimes I tell him that I'd like him to come up with something, however small, that he thinks of on his own. This might sound funny, but it's made us both much happier. No more guessing games on his end, and no more disappointment on mine.
3. I try to remember that he loves me more than life itself and wants to show me love.
Even when I'm
feeling
unloved, the
truth
of the matter is that I am deeply loved. I give him the benefit of the doubt that he is trying his best to please me.
So, isn't this post supposed to be about recipes?
Oh, yeah.
Actually, I'm not having a pregnancy moment. This is all fitting together, trust me. Because of the things I've just mentioned, this is what I'm doing this year for Mother's Day: I'm giving my husband a menu (telling him exactly what I want). I'm keeping it really simple--I'm even making some of it up ahead of time and putting it in the freezer (keeping my expectations low). And I'm telling him I want it served to me in bed (telling him exactly what I want).
Maybe some of you feel like this is just wrong! But it works for us and keeps our marriage happy. So there.
Here's the menu:
Whole Wheat Pancakes
(that freeze super-de-duper well) with sucanat syrup
Strawberries and cantaloupe
(these have been soooo good here, lately!)
Tea
(I love black tea and don't indulge in it very often when pregnant.)
You can probably figure out how to cut up strawberries and cantaloupe
all by yourself
. So, I won't say much more about that.
You can learn how to brew the
perfect cup of tea
here
. I'm telling you, there is a world of difference between a proper cup of tea and an improper cup of tea!
And here is my recipe for my very delicious pancakes:
Whole Wheat Pancakes
1 1/2 cups of freshly ground soft white wheat flour
(OK, I know. Most people don't have a wheat grinder in their cabinet. So, if you want these to be light and fluffy, maybe do half white and half whole wheat if you can't grind it yourself. Otherwise, they'll be too heavy and dry.)
1 t. salt
3 T. sugar
(I use sucanat)
1 3/4 t. baking powder
1 egg
3 T. melted butter or coconut oil
1 to 1 1/4 c. milk
(I've
actually been using water
since my youngest son has to be dairy free, and they still turn out deliciously. Cheaper, too!)
Mix all the dry ingredients together. Then add the egg and oil/butter. Gradually add your milk or water until you get the consistency you want. Thicker batter will mean thicker pancakes and thinner will mean thinner pancakes.
Heat your skillet over medium high heat. The heat will be right when water droplets sprinkled on the skillet dance and then disappear. Spoon your batter on with a ladle slowly and uniformly to get nice little circles. Flip your pancakes when bubbles appear on top and the edges start to look dry. The second side won't take as long as the first.
Serve with sucanat syrup, maple syrup, fruit, peanut butter, or whatever!
Once cooled, these can be stacked and frozen. They make great quick breakfasts. You can reheat them in the microwave (my preference) or in the toaster (my husband's preference).
This recipe is adapted from
Joy of Cooking
.
Sucanat Syrup
1 part sucanat
1 part water
Combine in saucepan over medium heat. Heat till dissolved and boiling. Pour into mason jar and store in fridge. Easy peasy!
Feel free to steal my ideas. Maybe you'll smile your way through Mother's Day this year!
For more great Mother's Day recipes, please visit
LifeasMOM for the Ultimate Recipe Swap
.