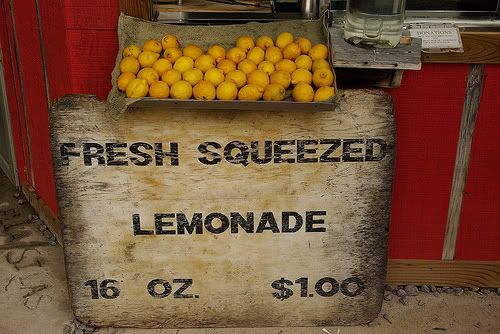 Image by House of Sims
Doesn't that picture above make you want a tall cool glass of REAL lemonade? I've found an acceptable substitute is mixing water with a few tablespoons of lemon juice and a few squirts of agave nectar. Add ice. Yum. I'm an instant gratification girl that way, you know. Find something yummy to sip and enjoy these links!
Healthy/Green/Natural Living
Gardening in Small Spaces
@ Passionate Homemaking
Choose Superfoods Over Supplements
@ Nourishing Days
Healthy, Natural Pregnancy: Prenatal Vitamins
@ Keeper of the Home
Stewarding Your Finances
How to Figure Ingredient Costs for From-Scratch Recipes
@ Tammy's Recipes
Save Money on Paper and Ink
@ The Happy Housewife
Off Track? Get Reacquainted With Your Finances
@ Small Notebook
Feeding Your Family
Tangy Lemon Curd (Honey Sweetened and Dairy Free)
@ The Nourishing Gourmet
Decadent & Healthy: Chocolate Ganache Frosting
@ The Nourishing Gourmet
Organizing Your Domain
Free Printable Kids' Toy Labels
@ I'm an Organizing Junkie
50 Ways to Streamline Your Life, Part Four
@ Life as MOM
Tips for Family Vacation Planning, Part 4: Playing it Safe
@ Mommy's Idea Book
Creating a Sanctuary
Decorating to Declutter: Creating an Organized and Beautiful Space
@ Organizing Your Way
It Doesn't Have to Be Perfect to Be Beautiful: The Ebook
@ Nesting Place
Especially for Mother's Day!
A Weary Mother's Day
@ GirlTalk
Who Says We're Just Moms?
@ Mommy's Idea Book
Biblical Descriptions of Mothers
@ Making Home
Giveaway
See Kai Run Giveaway
@ Beautiful Calling