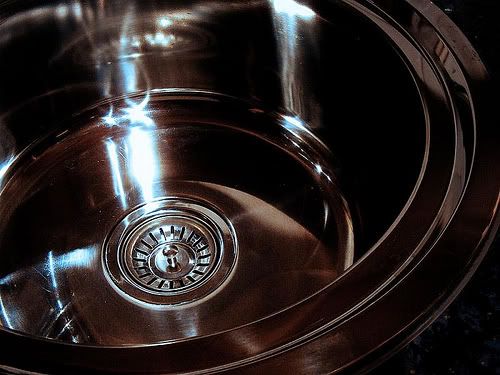 Image by scalespeeder
Ah,
Flylady
--that venerable icon of hope to the cluttered and disorganized masses. I owe a lot to this woman, I really do. She has a good thing going and she's sharing her good thing with thousands (millions?) of others.
But I do have a few beefs with
Flylady
. (
Is that OK?
) I wrote the other day in my post about
dressing well
, that I rebel at the
mandate of wearing lace up shoes
in my home each day. I feel confident that I can manage my home well in my slip-on shoes, or even (*gasp*) barefoot.
I digress.
My biggest beef with Flylady is this: Shining my sink does nothing for me.
I know, I know! It's near sacrilege to say such a thing! I fear, however, that were the truth known, we would discover many, many women who feel likewise. (Speak up, girls, if you feel likewise!)
But here's the thing:
I've come to the conclusion that the sink is a
principle
rather than a dogmatic rule.
We've all got things that motivate us in interesting ways. For some it's that gleaming sink that pushes them to new heights in organization. For others, it's something else that has the power to propel them to further action.
The key here is figuring out, "
What is my sink?
"
How to discover what your sink is:
1. Ask yourself if there is some task, when completed, that gives you satisfaction and motivates you to do just a little bit more in your home.
Personally, I actually have two things that fit in this category. The first is
a bed that's made
. I believe it's Flylady herself who points out that a bed takes up about 80% of the room. If I take sixty seconds to make my bed, I've just improved the look of my room by at least 80%. It definitely motivates me to pick up the surrounding stuff.
The second is
clear kitchen counters
. A kitchen with cleared off counters is such a launchpad for me! For some reason, my brain interprets a clear kitchen counter as a sign of a well-ordered home, and it is so much easier for me to get on top of other things if I see those wide open spaces.
2. Ask yourself if there is some task, when left undone, that leaves you feeling debilitated.
This might sound like it's the same question, just asked in a different way. But I find that there are a couple of things that don't necessarily propel me to greater motivation when they are completed, but they definitely make me feel frozen when they
aren't
.
Let me explain.
Seeing an empty laundry basket does not make me feel motivated to move on to the other things on my to-do list. But piles of laundry that will take seven loads to catch up? Ugh. I cannot even begin to express how horrible this makes me feel.
If I have laundry piled up, I can feel my gears churning to a complete stop.
The other thing that can debilitate me is a stack of dirty dishes that has been piling up for a few days.
This is connected to my clear counters, but it's a little different again. Having cluttered counters doesn't disable me like stacks of dirty dishes.
So, I actually have a few "sinks".
I find that if I make my bed, clear my counters, keep up with laundry and dishes that I'm in good shape! Managing these "sinks"
works for me
. For some reason, these rather small tasks are the keys to good home management for me--they are the things that keep me on track. I really believe that each person has at least one thing that makes or breaks the general health of their home management.
What do you think? Do you agree or disagree? What are your "sinks"?
By the way, don't forget to enter the Marie-Madeline apron giveaway, if you haven't already!