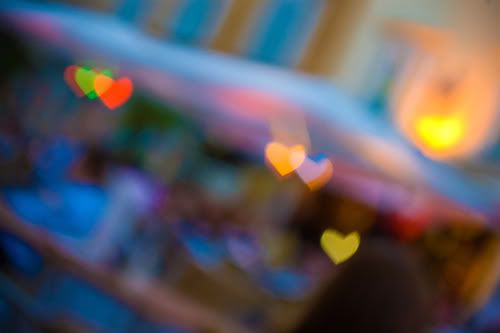 Image by annia316
Sometime in the last year I read
The Hidden Art of Homemaking
by Edith Schaeffer. What a beauty of a book! This book is not about being organized or managing time well. The subtitle is "Creative Ideas for Enriching Everyday Life".
This is a book for the

soul

of the homemaker.
In short, this book is about creating a beautiful sanctuary for your family.
It's about art. Music. Flowers. The things that feed the soul.
Ahhhh
. Refreshing.
The biggest challenge I found within its pages was this:
Don't wait till you live in your dream home to make a place of beauty around you. Make

wherever

you are a place of beauty!
I realized I had been doing just that--dreaming about how I would decorate the beautiful home in the country. You know, the one under the shade trees? The one with the sound of a happily gurgling brook? The one with wide open spaces. The one with hardwood floors and tall, gleaming windows that let sunlight stream in. The one that might never, ever come to be?
The Lord pricked my heart with this challenge.
He wanted me to be content wherever He placed me, and to beautify my current surroundings.
After all, our Lord isn't just a God of order, but a God of creativity and beauty!
So, I started planning a redecorating project for our home. I started by making a list of words that drew a picture of what I wanted to create in our home. Here are some of my words:
warm homey cozy colorful light quilts plants books art music life joy peace cheery kid-friendly imperfect laughter learning welcoming nature
Since then, we've slowly (very slowly) worked on moving my initial ideas
from imagination to reality! We've painted, sewn and created. It has been so much fun to put pieces of my personality into my home! I'm not going for a gorgeous showplace--just a little spot of beautiful refuge for the people I love most.
I was "hindered" by a small budget. I put that word in quotes because, as I said, the Lord had really been working on teaching me to be content with what He had already provided for me. So, I've tried to be creative. One of the happiest little spots in my home is also one of the most frugal decorating projects I've completed.


These little circles are so easy and so cheap to make! I found some wonderful fabrics (you may even have some fabric scraps hanging around that would work), and bought some very inexpensive embroidery hoops. Pop the fabric into the hoop, pull to tighten, trim, and hot glue the edge to the inside of the hoop. Ta-Da! You're done!
I'm planning to do more of these in our living room. I'll use different sizes and put them up randomly instead of in a grid like I've done here in the kitchen.
This little idea is not my own--actually, most of my ideas are copies of what I've seen others do. I originally saw these delightful little circles on
Delight's photo stream
on Flickr. Sara (Delight) blogs at
Walk Slowly,Live Wildly
and I love her taste!


So what's stopping you from creating a beautiful space for you and your family? Day-dreaming? Budget limitations?


Ask God to show you how you can be creative with what you have, so that you can make a sanctuary where love and laughter can grow.
For more frugal tips, please visit LifeasMOM for Frugal Friday!