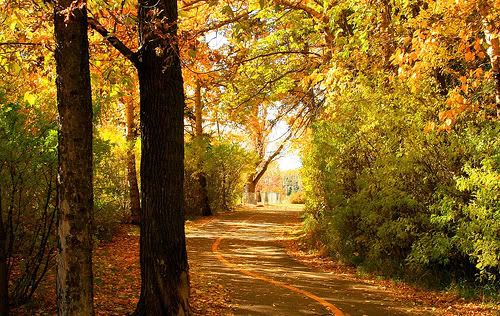 Image by Red Willow
This past weekend my parents moved from my childhood home. The home they've lived in for twenty-seven years and the only home I remember living in as a child. I live almost exactly 1000 miles away from them and we are on a very tight budget. As a result, there was no opportunity to go home and say goodbye to this special house.
It grieved me to know that they were leaving this place. It was hard on them, too. They've moved to a new town about an hour and a half away due to job circumstances. For them this meant moving away from the place they both grew up in, as well. My two sisters and one of my brothers are in my hometown, so it meant leaving them as well as their families--including two sweet baby grandsons.
Last week, my oldest son, Caden, asked when he would be able to make a snowman. "When is it going to snow in Georgia, so that I can make a snowman, Mama?" Unfortunately, we live in a part of Georgia that rarely if ever sees snow--I've yet to see it in the seven years I've lived here. I smiled and told him that he would have to go to Canada to see Marmie and HatDaddy to make a snowman.
Then it hit me. He would never make a snowman in the backyard where I made a hundred of them with my siblings. I wouldn't ever look out my bedroom window and glimpse a peek of the blue waters of the lake down the road. I would never again sit in the shade of the birch tree out back and listen to the cardinals sing. And grief swept over me in an unexpected way.
It's been hard living so far from family. I've had some losses that I haven't really been able to properly "shut the door on", so to speak. I've lost my grandfather and a dear, sweet aunt. I haven't been able to go home to say goodbye. And now I've lost my childhood home without being able to say goodbye.
Sadness.
But God's Word clearly instructs us,
"Be joyful always; pray continually; give thanks in all circumstances, for this is God's will for you in Christ Jesus."
(I Thessalonians 5:16-18)
So, I've been asking myself, "Brianna, girl, what do you have to be thankful for?"
And I've seen that the list is long.
I had a stable childhood. What a blessing to be in the same place with two parents who stuck things out together through the hard times. Things weren't perfect by any means, but there was a lot of security in knowing that I had a mom and a dad and the same place to always come home to.
I lived in a place surrounded by beauty. The lake! Oh, the wonderful lakes that were within driving distance of our home. Our area of the province was called Lake Country and indeed it is. The smell of lake water. The blue of the waves under a cloudless sky. Covered by a golden haze in the fall and a clear freshness in spring. Swimming four times a day in the summer. (Bless my mother who took all five of us plus neighbor kids each day.)
Birds--so many beautiful birds. Trees. Lots of shade and green.
What else am I thankful for? I'm
thankful
that I'm a thousand miles away. You know why? Because the only reason I'm a thousand miles away is because of the amazing man God gave to me. I'd move to the ends of the earth to be with my Keith.
As my daddy reminded me recently, I have my own home now. Yes. Yes, I do. A beautiful home and family full of love, laughter and peace. I've been blessed with a great man of God as my husband and three beautiful sons.
I'm thankful for the South. I'm a southern gal now in many ways. In some ways, I'll always be Canadian. But I've definitely transplanted and am blooming where I'm planted. I love so many things about the culture here. And the South has it's own beauty. Azaleas. Kudzu. Pecan groves. Rolling hills and mountain foothills.
And sweet tea. And grits. And collard greens. I wouldn't even
know
about these heavenly things unless I were here!
This is only the beginning of a list that now fills my heart. I'm so grateful for the way the Lord has worked in my life. I was born into a wonderful family in a wonderful place. And now I live with a wonderful family in a wonderful place. He has truly blessed me beyond measure.
For more thankful thoughts, please visit
Heavenly Homemakers
.