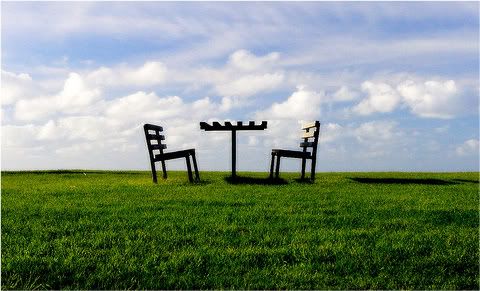 Image by oddsock
There are a few foods in my life that make me, well,
drool
. I would say "make my mouth water" because it's so much more polite, but it isn't exactly, well,
accurate
.
Just keeping it real here, folks.
The following recipe is sure to make you and your husband
drool
. (How's that for the beginning of a post that's about a romantic dinner?)
But, really, if you'd like to plan a
stay-at-home-date
for a special occasion, this recipe is
just
the thing.
This recipe is my mom's lasagna recipe--with a few of my own tweaks. Since my earliest memories, it has been one of the absolute favorites of my family. And now I make it for my own family--including my husband, of course. And the drooling continues down through the generations. It's a beautiful thing.
Lasagna
Ingredients:
1 lb. ground beef (sometimes I'll use mild sausage for a bit of a different flavor--both are yummy)
1 clove garlic, minced
1 T. basil
1 1/2 t. salt
2 1/2 c. canned diced or crushed tomatoes (just depends on your family's texture preferences)
2 6 0z. cans tomato paste
16 oz. lasagna noodles (you could make these whole wheat if you wanted)
4 c. cottage cheese
3/4 c. parmesan cheese
2 T. parsley
2 beaten eggs
2 t. salt
1/2 t. pepper
24 oz. mozzarella cheese, shredded
Instructions:
Brown meat slowly and drain off excess fat. Add the next five ingredients. Simmer uncovered for 30 minutes, stirring occasionally.
Cook noodles in large pot with boiling, salted water. Remove from heat while still quite firm (a little firmer than al dente). The noodles will continue to soften when you cook the dish. You don't want them to be so soft that they fall apart when you try to place them in the pan or to taste mushy in the final product. I drain and rinse these noodles and then cover them with cold water. This ensures that the noodles won't dry out and stick together before you put them in the pan. Otherwise, you'll end up tearing noodles to pieces and grimacing in frustration. (Ask me how I know.)
Combine remaining ingredients in a separate bowl (except mozzarella cheese).
Place noodles carefully in the bottom of a 9x13 baking dish. You may need to trim them a bit to get them to fit evenly. Add a third of your cottage cheese mixture, a third of your meat mixture, and a generous sprinkle of mozzarella cheese. Repeat layers till you have a total of three layers--
EXCEPT don't put the mozzarella cheese on your last layer yet!
You want to save that mozzarella and put it on in the last 20 minutes of baking or so. Otherwise your cheese will burn. (Ask me how I know.)
This lasagna will be
best
if you cover it and refrigerate it overnight. Oh, the flavors will be so beautifully blended if you do this! But it's not absolutely necessary.
When you're ready to finish it up, cover with foil and bake at 375 for at 25 minutes. Remove foil,
add cheese
and bake for at least another 15-20 minutes. It will take longer if you had it in the fridge beforehand. When the the cheese is nicely melted, edges are bubbling, and the center is heated through, it's ready! Let it stand 10-15 minutes before cutting into squares.
This will actually make more than enough for a small family, so it's definitely too much for a twosome. But the leftovers are great, it freezes well, and you can also cut the recipe in half and bake it in an 8x8 pan if you like.
To round out this fine recipe you could serve it with a tossed green salad and
Italian salad dressing
, some
yummy breadsticks
, and some
chocolate or raspberry sorbet
for dessert.(Chocolate for me and raspberry for my husband!) Oh, and don't forget the candles, special dishes, and sparkling grape juice served in those flutes you got on your wedding day and haven't used since.
Enjoy!
For more ideas for a romantic dinner, please visit the
Ultimate Recipe Swap at LifeasMOM
!