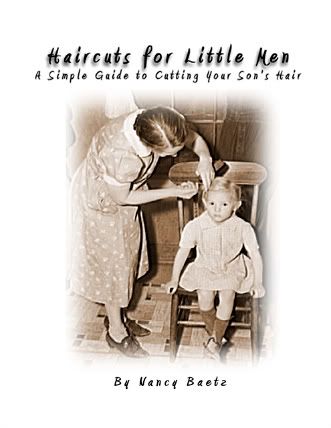 Last week I posted about my experience with home haircuts
--along with a dire warning to attempt at your own risk. I stated that I cut my boys' hair because I can't bear to spend $20 a month on haircuts--
not
because I'm necessarily wholeheartedly satisfied with my haircutting skills.
No indeed
.
Well.
Melonie
came to my rescue and mentioned a friend,
Nancy
, who not only cuts her children's hair successfully (and lives to tell about it), but has also written an e-book detailing how-to's!
Well
.
Lo and behold,
Nancy
herself contacted me, and, perceiving my desperate straits, offered her kind assistance. (So, maybe that's a bit dramatic, but it appeals to my need for a good story, OK?)
Well
.
Not only did she offer me a copy of her e-book for
free
, she also offered me one to give away here on my blog to one of my awesome readers!
How neato-mosquito is that?
Her book is entitled
Haircuts for Little Men
, and it's designed to help us poor, desperate mothers save a buck and still feel confident that we can cut our boys' hair and not leave them scarred for life. (Figuratively or literally!)
Now, I'll be honest. I had just cut my little guys' hair when Nancy offered to do this. So, I haven't actually tried out her techniques and instructions yet. But I have read it and the instructions seem pretty straightforward.
Plus
, her
website
is filled with
great reviews
--including
pics of first time cuts
by previously inexperienced haircutting moms. I've seen the pics, and if seeing is believing, I'm pretty darn impressed.
So, if you're interested in attempting haircutting for the first time
or
improving your skills, here's a chance to win a great how-to book!
There are three ways to enter the giveaway and you can enter up to three times.
1. Leave me a comment here and include your funniest haircut story. Your own haircut gone wrong, or a haircut you did for someone else, or whatever!
2. For a second entry,
subscribe to my feed
! There will be a secret code in the footer of the post in your feed reader or inbox that won't show up on the site itself. Email the code to me at hearthmanagement (at) gmail (dot) com.
Put the quote in the subject line--I won't actually read the email!
For those of you who are wondering what it means to subscribe,
here's a quick explanation
. Please don't comment to let me know--I'll get your email.
3. For a third entry, post about and link to the giveaway post on your own blog. Email me with your link in the subject line. Again, please don't comment to let me know--I'll get your email.
The giveaway will be open until Wednesday, April 22 at midnight. The winner will be announced on Thursday the 23rd and will be notified by email.
Please be sure that I have a way of contacting you. (Either a valid email address in your Blogger profile, a link to your website, or your email address included in your comment.)
Enjoy and happy haircutting!
For more money saving ideas, please visit
Frugal Friday at LifeasMOM
!